Have you ever wondered how yoga poses got their names? Everything in, under, and beyond the sky have inspired yoga poses. The story behind the trio poses called Virabhadrasana 1, 2 and 3 is very interesting.
One version of the story is…
Lord Shiva was married to his dear Sati, against the consent of Daksha, Sati's father.
Daksha organized a grand Yagna (a ceremonial ritual) and invited one and all, except Shiva and Sati.
Feeling slighted, Sati gate-crashed the Yagna and questioned her father on why he excluded Shiva and herself.
In response, Daksha insulted both Shiva and Sati with the intent to humiliate. Sati was deeply hurt by her father's insult of her husband and the Lord. Unable to bear any more insults, she decided to cast off her body to break all ties with her father. Right then and there, she sat in intense meditation to the point that she burst into flames in front of everyone.
Seeing his loved one suffer such an end, Shiva was grief stricken. His grief soon turned into fury and he ripped a lock of his hair and threw it to the ground. From that lock arose the fierce warrior – Virabhadra.
Virabhadra arose with swords in his arms which he stretched out above his head. This scene is depicted as the asana – Virabhadrasana 1.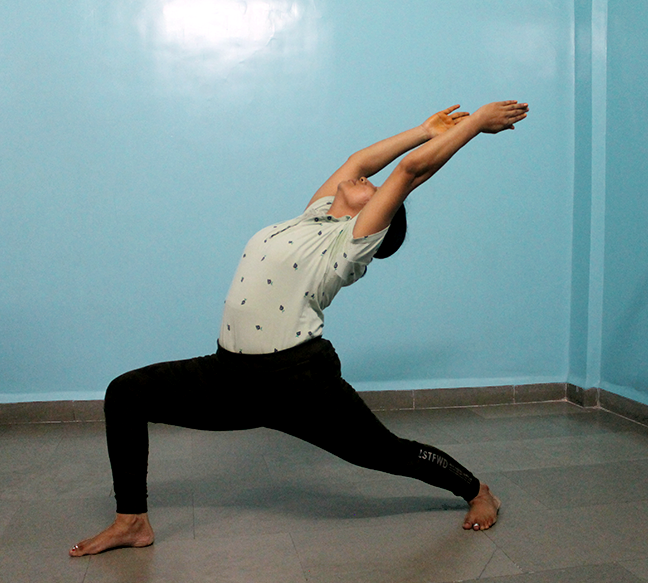 Virabhadra then held his swords menacingly, ready for battle and to strike. This scene is depicted as the asana – Virabhadrasana 2.

And then he drew his weapons forth and struck, cleaving Daksha's head of his torso. This scene is depicted as the asana – Virabhadrasana 3.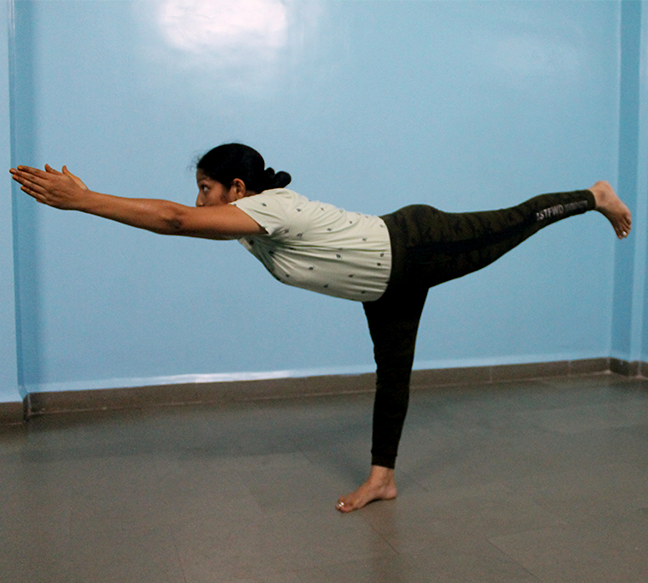 Having terrified one and all at Dakshas ceremony, Virabhadra then held up Daksha's head in display to establish his and Shiva's might over wrong doers, and threw it into the ceremonial fire.
Thereafter, Shiva arrives at the scene. Seeing all the gore and bloodshed of violence, the grief in Shiva's heart evolved to compassion. Since the lesson was taught, he brought Daksha back to life by placing a goat's head on his body. Daksha recognized his ignorance and bowed to the almighty Shiva.
This is the story behind Virabhadrasana. A story that depicts the display of strength and compassion. These qualities should be reflected in the asana we do. Feel the strength of Lord Shiva and Virabhadra next time you do the pose. Be the warrior who overcomes weaknesses.
Registration Open – Online Traditional Hatha Yoga By Rohit Dulal